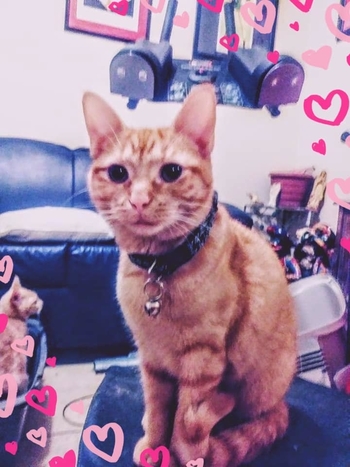 It's Easy To Order Your Cats Favorite Collars.
BUY 1 COLLAR @ REGULAR PRICE GET 1 OF EQUAL OR LESSER VALUE @ 50% OFF, NO LIMIT ON COLLARS
*YOU WILL BE REFUNDED FOR THE SECOND COLLAR @ 50% OFF.
NOTE: THE COLLAR DISCOUNT WILL NOT BE APPLIED IN THE CART UPON CHECK OUT, I WILL REFUND YOU DIRECTLY AFTER YOUR PAYMENT IS RECEIVED.
1. CHOOSE YOUR CATS COLLAR SIZE ON THE CAT COLLAR PAGE. CHOOSE YOUR FAVORITE FABRIC FROM DOG COLLAR SECTION, JUST CLICK ON THE DOG COLLAR TAB ON THE MENU BAR. BE SURE TO WRITE YOUR FAVORITE FABRIC NAME IN THE MEMO FIELD DIRECTLY BELOW THE SIZE.
2. DO NOT CLICK ON THE ORDER BUTTON UNDER THE PICTURE OF THE COLLAR. BE SURE TO ADD YOUR FABRIC CHOICE IN THE MEMO FIELD BELOW.
3. MEASURE YOUR PET'S NECK, ALL SIZES ARE NOT THE SAME. DO NOT MEASURE THE LENGTH OF YOUR PET'S CURRENT COLLAR..MEASURE YOUR PETS NECK, THEN COMPARE TO MY SIZES LISTED.
NEED HELP WITH YOUR ORDER SPIFFYPOOCHES@GMAIL.COM


©2021 spiffypooches. Powered by: Create A Shoppe